A.A. Milne was a soldier under WW1, the war to end all wars. Describe the role of the soldier under WW1 and the trauma they experienced.
During World War 1 many soldiers experienced unhuman scenarios, therefore, PTSD was a common Syndrome amongst former veterans caused by the war. The soldiers were willing to sacrifice themselves to end all wars, but as we know today, it appeared a second World War. WW1 is known for the tactical fighting method where trenches and weapons such as poisonous gas, also referred to as an invisible weapon.
2. How many soldiers died during WW1?
There is estimated around 15-19 million, who died during the war.
3. When he returned for war, how did he adjust?
He came to realise that his fathers writing actually meant something to others. It made people happy. He felt joy when realising that his childhood reminded others of their childhood and their happiness.
4. Happiness, what makes you happy? What did Christopher Robin want from his parents?
Christopher wanted his parents to care for him and love him. He needed attention. He hated it when his mother left.
5. Why did Christopher Robin have such trouble with the characters in his father's books?
He was angry that people got to share his childhood and his stuffed animals. He wanted his own childhood.
6. What was his relationship with his father?
At the beginning of the movie, he had a good relationship with his mother and the nanny. He wasn't allowed to speak to his father when he was writing. There were several events where his father had flashbacks, which made Christopher scared. When the mother and nanny left, Christopher was left with his father. Their relationship had a slow start but became a very strong one. They had a good time, but Christopher missed his nanny. A short time after the mother and nanny came back, his father started publishing his poems about Christopher and his animals. They became more distant to each other, Christopher became famous, and his father had to write more. Christopher got sent to a boarding school, where he lived with boys only. When he came back from the school, years later, Christopher was furious over his father. He hated him for ruining his childhood. The only way he could repay him was by sending him to the military. After his duty, Christopher came to realise that his father's writings made people happy. This made Christopher happy.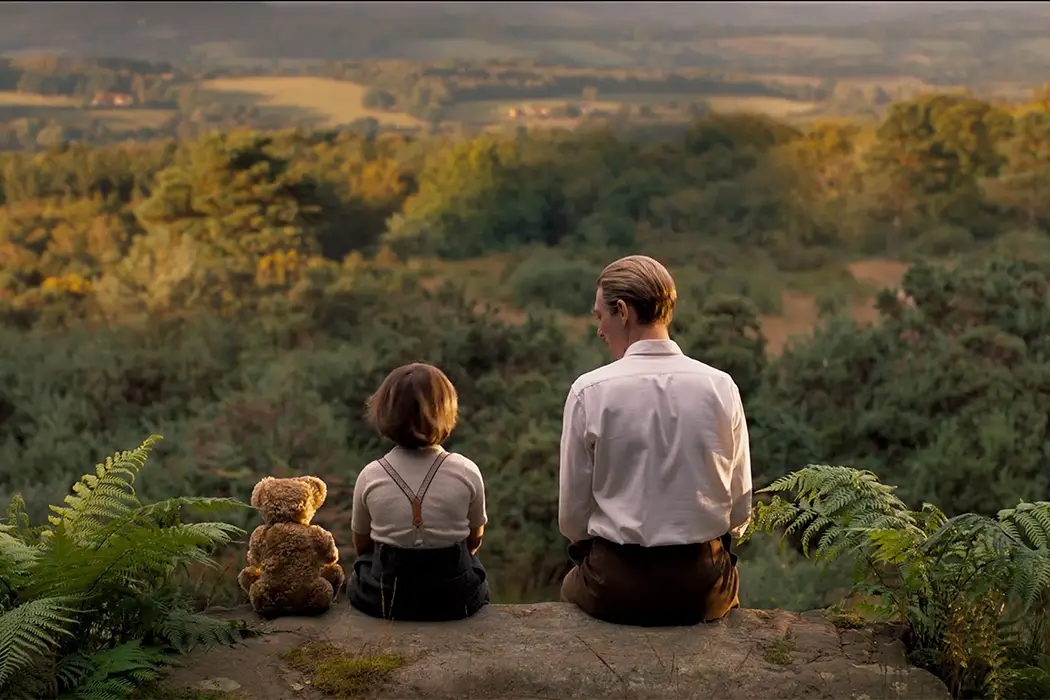 7. What was his relationship with his nanny, how did it develop in the movie?
He loved his nanny, she was there his whole life. They did everything together, mainly because of his parents not being there for him. He hated it when she was leaving, he even wanted her sacked. When she came home he was happy and full of joy
8. Christopher Robin went to a private boarding school. Describe life at an all boys school before WW2.
The life was harsh, the boys were getting prepared to go to war. They lived a strict life, with no parents. They had to follow rules and be prepared to do duty later on.
9. Write a post on your blog where you share your thoughts about the movie, using some of the words highlighted here as your point of departure.
The movie started as his father being a famous writer. He grew up as a wealthy child, with no siblings. Just two parents and a nanny. His father wrote about the WW1, which was the war to end all wars. Sadly this did not happen. The movie really reflects on what happiness really is. Christopher was happy with the life he had in the country, but not his glamours and famous life. His mother felt happy when she was out partying. The nanny was in love, and Blue loved writing with his son. Happiness can be found in different places and forms. Some have found it, others not. Christopher had good relationships with his father and nanny. Mostly nanny because she was there ever since he was born. She was more like a mother than his actual mother. His father was there for him when the nanny and mother left.